Written by: Louie Vetter on Wednesday, July 14th, 2021
Written by: Louie Vetter on Monday, December 30th, 2019
Heavenly Father, we come to you in prayer at the start of this New Year with bended knee and humble heart. We start by first giving you thanks for the year that just went by. We thank you for keeping watch over us and shielding us from the many misfortunes and disasters that undoubtedly swayed over our heads and homes. From fires and floods, from accidents and calamities, and from Satan himself who stalks around the House of God like a roaring lion to see whom he can trick or beguile into his dark empire with his traps and snares.
Written by: Kenny Wollman on Thursday, May 23rd, 2019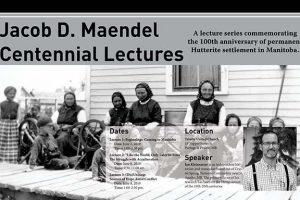 We are pleased to announce the inaugural Jacob D. Maendel Lecture Series. These talks to commemorate 100 years in Manitoba will take place in early June in Portage la Prairie, MB--we hope that this central location will make it accessible to people from all across the province.
Of all the scholars I know, Ian has done the most research in the period of the last 100 years, and everybody will undoubtedly learn a lot from his skill as a historian and speaker. You can download the series brochure