Category Archives:
History
Written by: Linda Maendel on Thursday, November 29th, 2018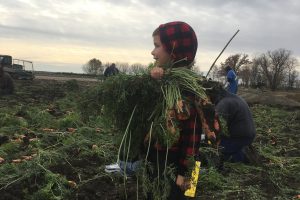 AS LONG AS THE EARTH REMAINS, THERE WILL BE PLANTING AND HARVEST,  COLD AND HEAT, SUMMER AND WINTER, DAY AND NIGHT." GENESIS 8:22
On a Hutterite colony, typically one couple is in charge of the vegetable garden. They're the ones who decide what will be planted, when the garden needs weeding or produce is ready to be picked. For these tasks, the women's work group and sometimes the men and older children will help as well. When it's a smaller task, like digging a few boxes of carrots for the kitchen, the gardener couple will do it with....