Written by: The Bridge on Friday, April 4th, 2008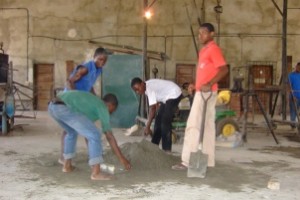 When I think of getting some bricks for a garden, I think of getting a pallet from Barkman Concrete. Here in Palmgrove things are a lot different. Bricks are made entirely by hand. In the end, the finished product is of low quality and very inconsistent. But, with a rainy season that lasts eight months the people of Palmgrove rely on bricks to stop erosion. The termite ants are also a major reason for brick usage. Overall, the most notable thing about brick making is the amount of labor it takes.
To make bricks they need c....